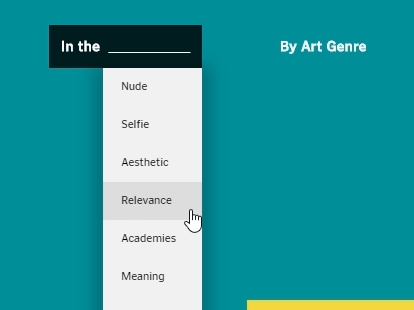 Art history can explain how we've gotten our current ideas on beauty. We can even make the connection of portrait paintings to selfies. However, plenty of people find art boring. In the Nude tries to combat that with a blog-style website on European art, where we constantly see the reclining female nude. Inspired by artists and designers such as the Guerrilla Girls, it's less about exclusivity and more about access to information.
Artist/Thesis Statement


In Europe, the male gaze has affected the meaning of the female reclining nude throughout art history. Though the male gaze still affects how we navigate through society, there is a demand for reclaiming our bodies. We're in control of curating ourselves more than ever before. By being aware of the past, not only do we learn of the origins of things like beauty and binary gender roles, but we have the opportunity to do better for ourselves and each other. History should not always repeat Itself.
I connect this topic back to our phone selfies because selfies, as well as portraits, are not so new. In fact, they have been around for centuries as paintings! This connection and providing bite-size information through my website is a way for me to make a "boring subject" digestible for high schoolers. Being online, it gives people access to learning a bit of art history, as it is such a niche subject. I believe that education should be open-source and accessible as much as possible without seeming so exclusive. On social media, I am also providing a space to #curateyourself with positive selfie prompts as a way to go against these traditional beauty ideologies.
I was inspired by modern artists, such as the Guerrilla Girls, who constantly question self-identity. In their own way, they have created public safe spaces for themselves and others, while referencing European academic art. For example, one of their series asks, "Do women have to be naked in order to get into the Metropolitan Museum?" while using a famous reclining painting known as The Grande Odalisque by Jean Auguste Dominique Ingres. By showing others the direct origins of widely accepted gender roles and idealism of today, I want to expand that space and open the floor up for discussion while making art history fun for others.