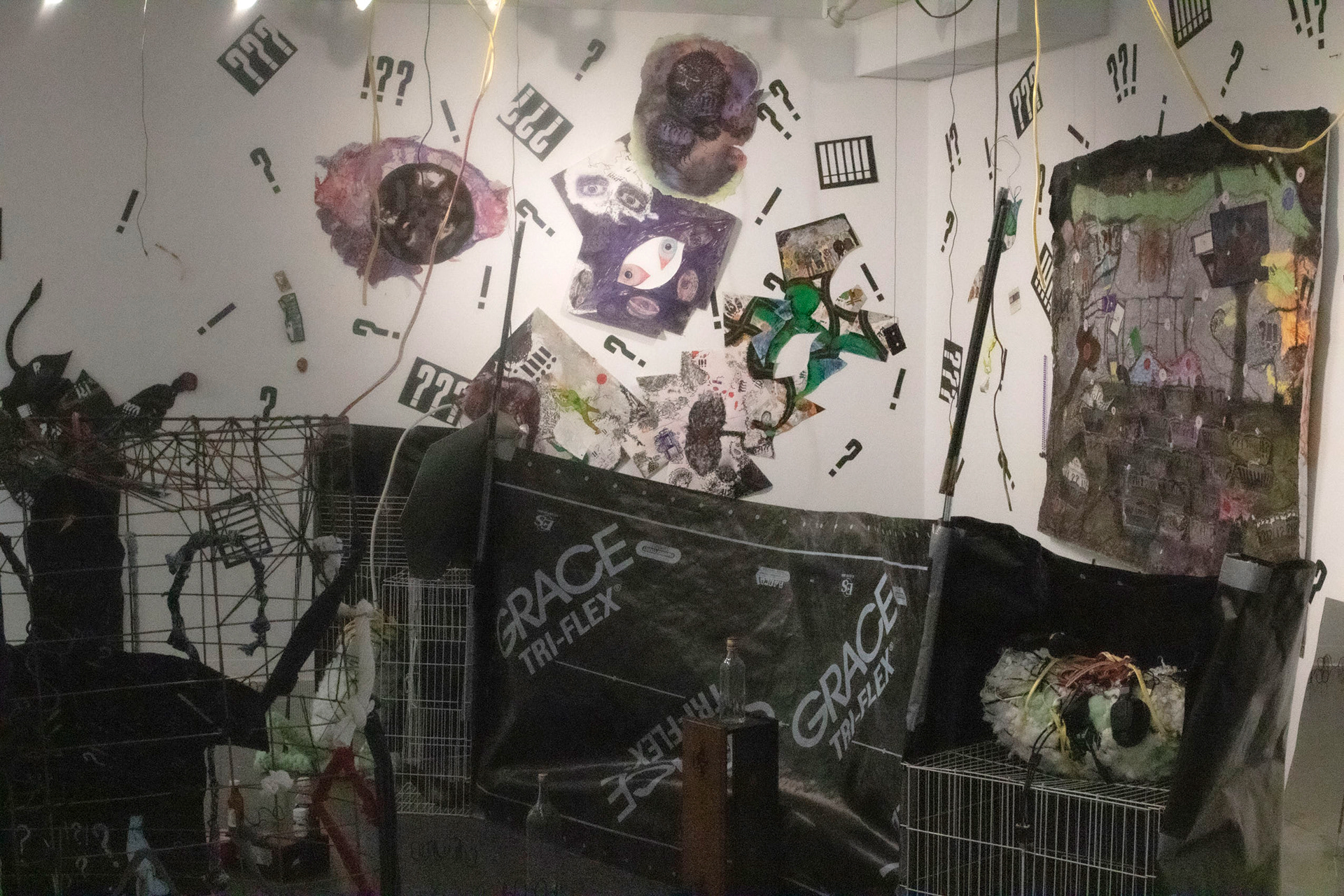 J.L Alexandre
Raging Youth (Installations + Pandemic Journeys)
RAGING YOUTH: INSTALLATIONS is a process-based series of installations amassed from 2D drawings, cutouts, and 3D sculptures placed amongst repurposed found objects. Interests in human anatomy and histories of human activity, including my own, are major influences within the process. The gradual expansion of mediums and object gathering serve as an essential form of play and investigation throughout my creative process.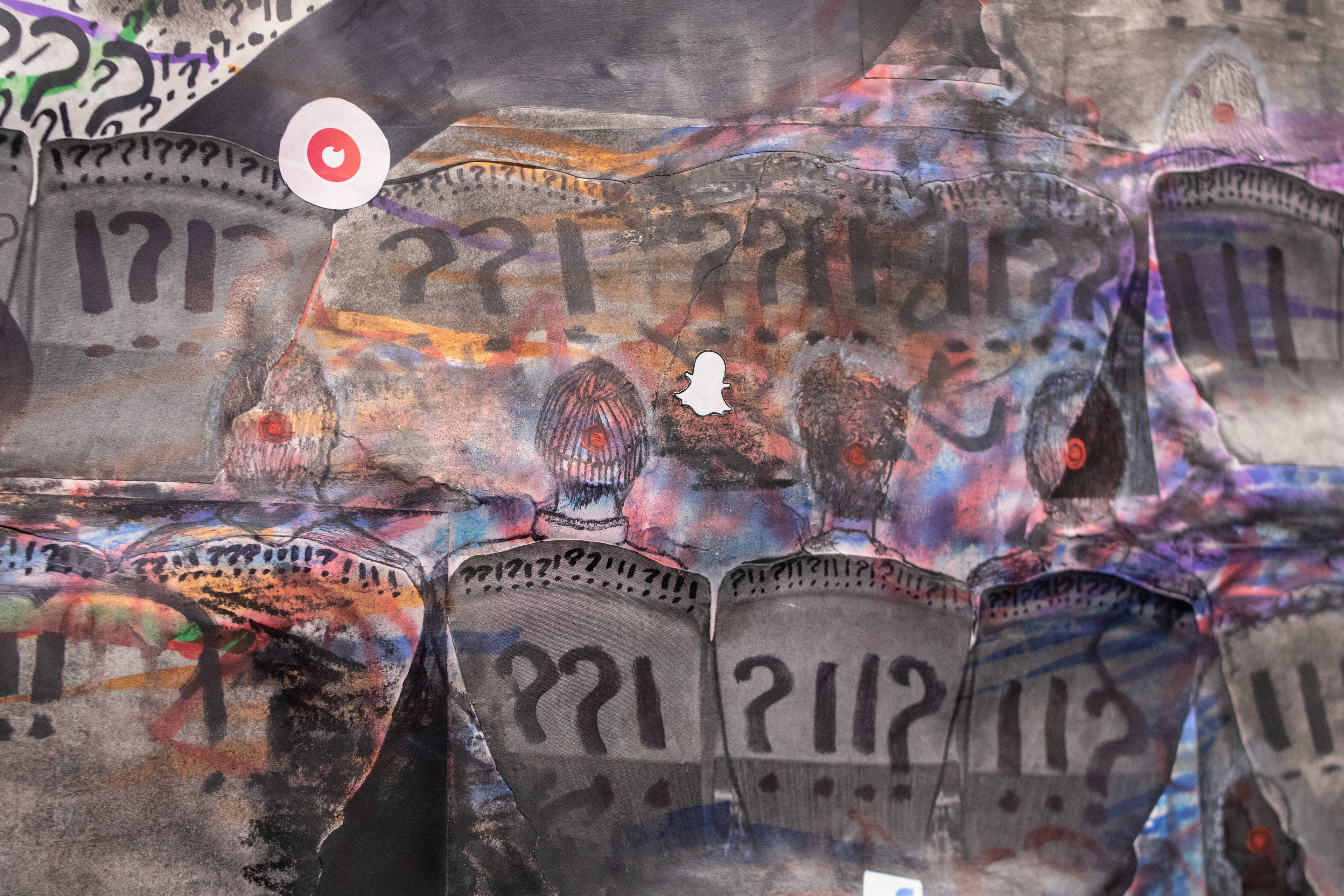 Artist/Thesis Statement


I walked into UML's Art Department five years ago a lost soul with collections of old drawings on lined paper and digital art. I transformed doodles into graphic work using Windows Photo Gallery and Paint software. I graduate the undergrad program as a thoroughly equipped artist with the presence of a material Mad Scientist. Now sculpting, painting, drawing, printmaking, taking photos and producing videos… who knows what will follow this young buck's journey afterwards.
 I have worked on a multitude of surfaces and implemented a wide range of mediums: drawing mediums (pencils, charcoal, crayons, washable markers, permanent marker, micron pens), paints (acrylic, gouache, watercolor), fabrics, electronic/digital media, prescription ZzzQuil and my head-hair among other things. As singular works expanded in both concept and literal size, my initial vision of creating separate conceptual environments to install as individual stations changed. The unification of 2D works and 3D objects into one space became my formal objective while meeting various demands. The process concluded itself as a quest to compress versions of the installation into site-specific rooms as well as virtual space. 
RAGING YOUTH: INSTALLATIONS also became a "battleground" of larger societal questions and personal responses to elements of life that have greatly affected me up to my present age. Such elements include struggles with social relationships, mental health, adverse situations, drug/alcohol consumption, and traumas fueling personal instability. Various installations and recordings reflect these internal battles manifested by environmental and social pressures toward different layers of my physical and psychological being: biological sex, race, ethnicity, gender, sexuality and creed. 
PANDEMIC JOURNEYS is a continuation of my process journey launched with RAGING YOUTH: INSTALLATIONS, created in the light of the newest coronavirus strain (COVID-19) spreading and interrupting the last months of Spring semester. After being forced to empty my dorm room and studio space in Dugan Hall, I decided to make a two-part graphic novel about my relocation experience within this pandemic. Each book starts with the same ten illustrations summarizing my thoughts & activities the last two weeks of my time on campus (March 1st - 13th, 2020). 
The remaining pages of each book feature photo documentation of Massachusetts during the months of March and April 2020 in our ongoing state of emergency. Along with custom backgrounds bordering the photos and a self-written poem/visual graphic ending one of the books, I have chosen to strip the images of full context. Only in-photo clues exist for discovering time and place within my photography of life amidst the havoc caused by coronavirus. Lastly, there are different shadowy red-dotted figures included in some of the photos as forms indicating a dubious presence. The figures embody sentiments of timeless delirium caused by the virus's evolution from epidemic to pandemic alongside fears of unknowingly becoming COVID-19 carriers.