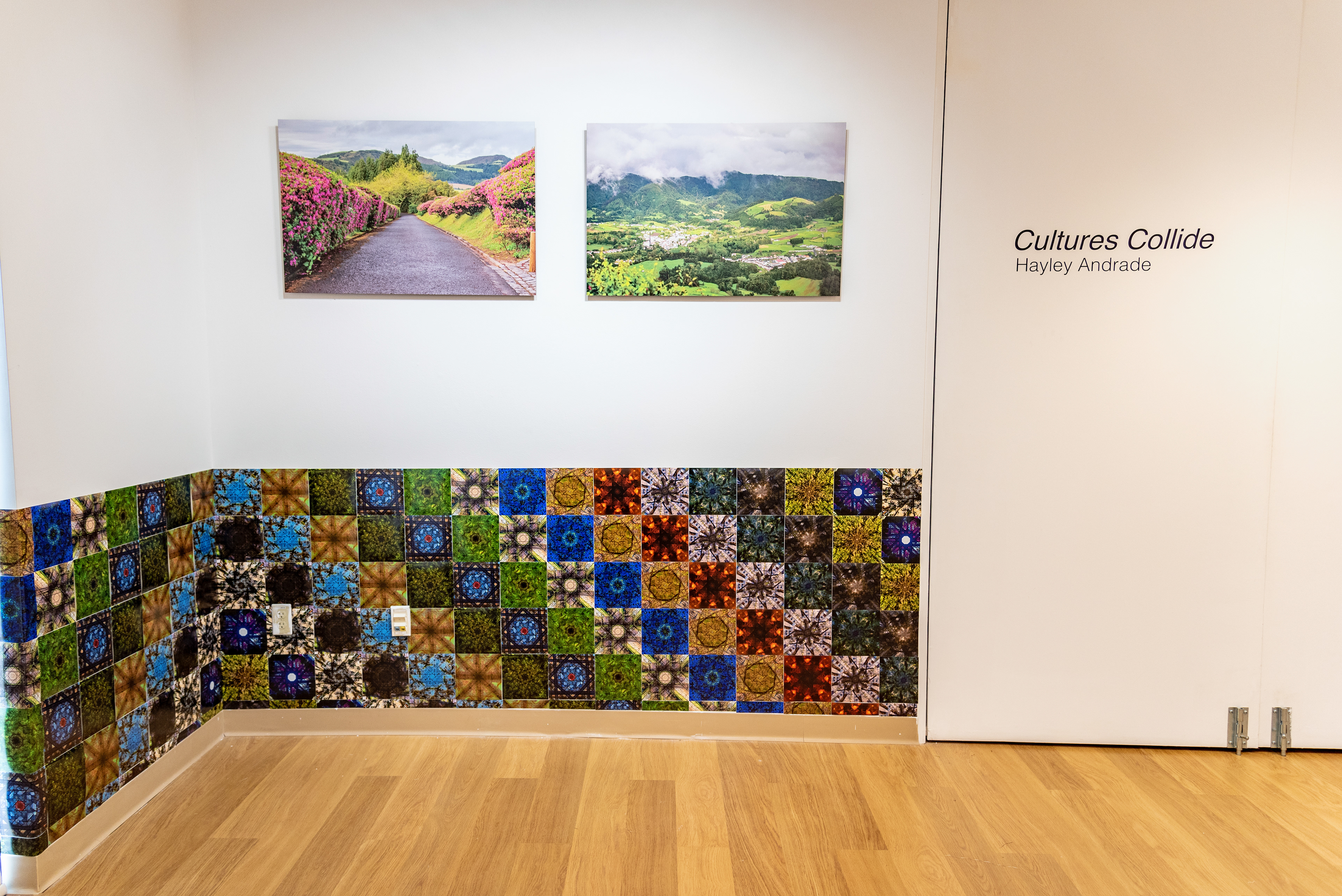 Hayley Andrade

Cultures Collide

My project, Cultures Collide, is about exploring my Portuguese heritage and creating abstract tiles out of the photos I took while visiting the islands of my ancestors. I integrated the photos from the Azores with images I captured from my home in Massachusetts. The installation forms a space that resembles the composition of Portuguese tiles and its architecture, yet I am blending two of my cultures that make up who I am.

Artist/Thesis Statement
I have always been inspired by the nature around me, especially the colors that it brings into the world. Growing up, I was the type of kid that was always outside exploring. All I wanted to do was be in nature because it brought me so much peace and happiness. The way the colors blend in together and how the landscape moved with my eyes always fascinated me. That's when I started to fall in love with photography, because I could capture what my eyes could see and share it with others along with keeping it for myself.
A huge inspiration in my life is my cousin, Codey. He has been doing photography for almost 4-5 years now, and his work is incredible. Most of the photography he takes are portraits, which is similar to what I take, but he captures the effects of mental illness through his photography. This is something that affects so many people and is a part of who they are. This concept of capturing things that make people who they are is something I am currently exploring in my project, Cultures Collide, which incorporates photos that I took on several islands in the Azores and in Massachusetts.
My Portuguese heritage comes directly from my dad's side of the family, and my project was heavily influenced by my grandfather, Jose Andrade. He was born in the Azores on the island of Faial in 1937. Taking these photos in the Azores and working on this project allows me to explore my family history and visiting the islands allowed me to experience a part of my heritage that I have never had the chance to understand.  Through the photos I took in Massachusetts, I was able to reflect and reminisce about my childhood. I want to utilize the images from the region I grew up on with the photos of the land my Portuguese heritage originates from and blend them together to represent who I am as a person.